IBP is excited to welcome a new member to our team- Avian Acoustic Biologist Dr. Mary Clapp! Back in 2018, when IBP did a pilot project using Autonomous Recording Units (ARUs) to monitor bird populations in California's State Vehicle Recreation Areas, we didn't realize quite how quickly the use of these devices would take off. But thanks to staff biologist Jerry Cole's skills at customizing the devices, processing recordings, and figuring out how to use their data in ecological analyses, IBP developed a reputation as a good partner for land managers interested in using ARUs to monitor and/or research bird populations.
That growing reputation for acoustic monitoring helped us attract another super qualified and talented acoustic monitoring specialist and in February 2023, IBP hired Mary. Mary Clapp received her Ph.D. from the University of California-Davis in 2021, where she used ARUs to monitor bird activity at high elevation lakes in the Sierra Nevada. She then went on to do post-doctoral research with the US Forest Service and was a visiting researcher at Google where she collaborated with Google engineers to develop methods that incorporate acoustic data (processed with machine learning to produce bird IDs) into standard bird occupancy models.
Mary jumped right into this year's crazy, snowy field season in the Sierra (more on that in a future blog) but she took some time to tell us a bit about herself and her work.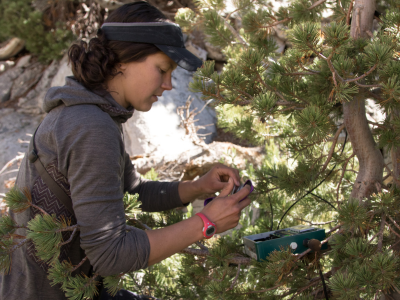 Mary sets up an ARU as part of her research for her Ph.D. Photo by Gail Patricelli.
"How did you first get interested in birds?"
I've loved being outside and getting curious about the natural world for as long as I can remember, and that led me to study biology in college. I was pretty indiscriminate in my enthusiasm for all things biological, from endocrinology to macroevolution, until the year I took both Animal Behavior and Tropical Biology. I got my first pair of binoculars right before our Tropical Biology class's trip to Belize. Birding every morning in the tropical dry forest sentenced me to bird nerd-dom for life. It was the oropendolas and the trogons for sure, but what really did it for me was seeing birds that breed up in Maryland (where I'm from) wintering down in the forests of Belize. The fact that some of the jewel-yellow warblers we saw down there flew to the woods behind my dorm room to breed in the summer was so compelling to me. I've been marveling about how birds make a living (and dragging my friends out birding) ever since.
"What was your first 'bird job?'"
I worked for a really fantastic grad student from the University of Tennessee nest-searching for Golden-winged Warblers in the Cumberland Mountains. Thus began a glorious three years of living mostly out of my car and traveling across the country for seasonal field gigs -- mostly bird jobs. I met so many wonderful people along the way, and learned so much about how science works in practice. I tell every prospective grad student who will listen that those years were an indispensable part of my path, and if I could do it again, I'd do it for longer.
"How did you get into acoustic sampling/detection?"
I first moved out to California for a seasonal job in Kings Canyon National Park as an aquatic restoration technician, deep in the backcountry of the park. That summer completely changed my life in many ways; one of which is that it was there that I decided what I wanted to study in graduate school. I wanted to study how birds responded to the aquatic restoration project we were doing out there (removing non-native trout from headwater lakes and streams), but knew it would be logistically challenging to say the least, to collect enough data in such a rugged and remote environment. My field supervisor at the time suggested checking out some of the very first papers on soundscape ecology -- maybe setting up audio recorders out there would allow us to essentially be in 10 places at once. Back in 2012, when the field of ecoacoustics was in its infancy, I threw my hat into the ring for an NSF GRFP to pilot the use of acoustic recorders to study alpine bird community ecology, got it funded, and here I am. I had absolutely no idea at the time that employing this tool would hurtle me into the worlds of acoustical physics, computer programming, and some pretty complicated statistics. I can't say I loved every minute of that learning curve, but I am so happy now to have emerged with the skills and experience in acoustic sampling and acoustic data analysis to lend to many of IBP's current and future projects. It's a fast-growing field with a lot of potential to help expand our understanding of birds and ecology in general.
Also, identifying birds by sound has always been one of my favorite skills. It feels fitting that I gravitated toward that part of their natural history in my work.
"What projects are you working on now?"
It's been great to jump right into a few of IBP's existing projects, such as the California SVRA project. We also have collaborative agreements with several National Parks that have collected lots of acoustic data. I am working with those datasets to analyze how avian vocal activity changes over the course of a season and across elevational gradients. Not only will this help our boots-on-the-ground crews refine the timing of their surveys, but it will also serve as a baseline for studying whether and how birds shift their vocal phenology in a climate-changed future.
And there are new projects in the works, too: I am beginning some work with Yosemite National Park biologists to measure the responses of birds to a big meadow restoration using ARUs, with particular emphasis on Willow Flycatcher. It has involved a refreshing blend of cutting-edge acoustics and classic field techniques. And of course, one of my biggest ongoing tasks is working with the fantastic Jerry Cole to develop a scalable, reliable, high-capacity "pipeline" through which to upload, store, manage, and analyze this ever-accumulating volume of acoustic data. Having such an inventive collaborator in that process has made the challenge fun. I am proud and excited by what we are coming up with, and think it will serve us well into the future.
"Where are you living and working now?"
I live in the Mono Basin in the Eastern Sierra. I am very lucky to call this place my home, and to have Say's phoebes and sage-grouse and one of the world's weirdest, most beautiful saline lakes as my neighbors (I have great human neighbors, too). Being able to live here year-round is a perennial source of inspiration for my scientific work and for life in general.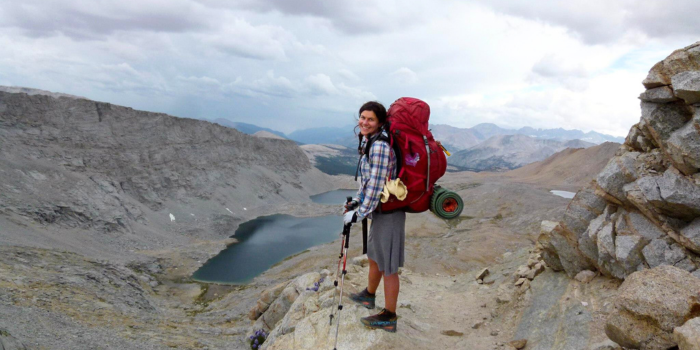 Mary doing fieldwork during her Ph.D. Photo by Rachel Friesen.