Last year IBP signed on to partner with the National Park Service to monitor bird populations at parks in the Southern Colorado Plateau Inventory and Monitoring Network, including such gems as Grand Canyon National Park and Bandelier National Monument. This work builds on our long-running bird population monitoring efforts in other national parks throughout the Pacific Northwest and Sierra Nevada regions. We're very excited to start working in these southwestern parks and we were thrilled to be able to hire Dr. Harry Jones to head up this monitoring work and other projects in the region.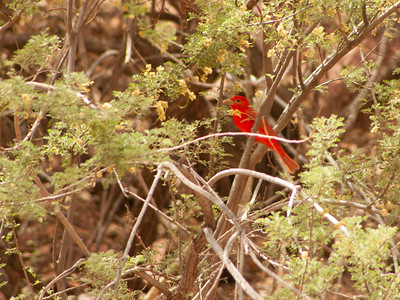 A Summer Tanager in Grand Canyon National Park. Photo by Douglas Mills/Flickr.
Harry recently received his Ph.D. in Zoology from the University of Florida and has conducted bird research throughout the Americas, from Michigan to the Colombian Andes. He is particularly interested in how human-caused change in the environment affects bird communities, populations, and behaviors. We'll talk more about his research in Colombia in an upcoming blog post, but first let's get to know Harry.
How did you get interested in birds?
I grew up in Indianapolis, Indiana and I'd like to think that frequent hiking trips and nature camps when I was young gave me an appreciation for nature in spite of my urban upbringing. My obsession with birds began a long time ago! As a kid I would spend hours identifying backyard feeder birds with a tattered old Peterson guide, but I think a family trip to Costa Rica when I was 10 really sealed it for me. We had a really patient and kind nature guide who put up with my 10,000 questions and who ended up showing me an umbrellabird- a really magical moment for me! As far as a professional interest, I had some wonderful mentors who encouraged me to pursue my passion for birds during a summer internship at Eagle Creek Park in Indianapolis (Kevin Carlsen) and an undergraduate field ornithology course (Dr. David Bonter.)
You've done quite a bit of work in South America- that's so cool! What was it like working in Colombia and Peru?
A Yellow-headed Manakin- one of the birds Harry worked with in Colombia. This species is IUCN-listed (Near Threatened) and a Colombian near-endemic (also found in northern Ecuador.)
Yeah, I've been really lucky to have the opportunity to work in South America. The tropical Andes were really a habitat unlike anything I had seen before- lush trees covered with mosses, lianas, and lichens growing at elevations that would be covered in snow in the temperate region. The mixed flocks really made an impression as well- you would be walking along in a totally silent forest and then find a flock where all at once 20 bird species are all around you. A totally addicting feeling for a birder! Of course, there were a lot of cultural and language barriers to working in Colombia. Fortunately, I had really wonderful collaborators, many of whom are now good friends, to help me out and (mostly) keep me from saying unintentionally embarrassing things in Spanish.
Why were you interested in working for IBP?
I ended up doing my Master's in the Wildlife Ecology and Conservation department at the University of Florida, and I quickly realized that I was interested in doing applied research that can help inform management and solve conservation problems, so I was very interested in being able to work closely with the National Park Service for my new position. I also worked closely with a grassroots conservation NGO in Colombia (Serraniagua) who really impressed me with what they had been able to accomplish. So that really opened my eyes to a career outside of traditional academia, and working for a conservation NGO in particular. I really like having a research-focused job that is at the same time devoted to applied questions.
Are you excited to work in the Southwest?
Absolutely! It's a part of the country that I didn't know super well previously, but I've been struck by the amazing landscapes and the fantastic diversity of habitats. The naturalist in me is really excited to be able to steep myself in new habitats and learn more about species that are only, or mostly, found in this region. Being able to consider iconic National Parks like Grand Canyon and Petrified Forest as 'my' study sites, and doing my little part to help conserve the birds there is also a special feeling.
A Common Raven at the Grand Canyon. Photo by Michael Quinn/NPS.