If Smokey was "poster bear" for forest fire prevention, the Black-backed Woodpecker has become the "poster bird" for post-fire forest management. In the western US, this species is considered a post-fire specialist- it preferentially inhabits burned forests where it nests in dead trees and feasts on the woodboring beetle larvae that eat the trees. Black-backed woodpeckers have been designated a management indicator species for post-fire landscapes by the US Forest Service, meaning that the presence of the woodpeckers is interpreted to mean that the burned forest is healthy and providing good habitat for many other species that thrive after a fire, like western and mountain bluebirds, several bat species that spurn closed-canopy forests when foraging, and black morel mushrooms.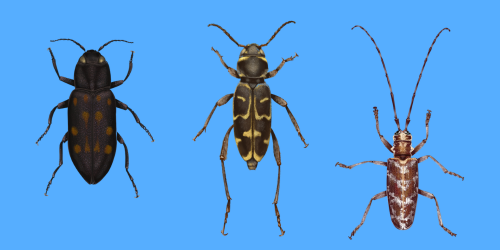 Three species of woodboring beetles commonly found in the Sierra Nevada (from left to right): Melanophila consputa, Xylotrechus longitarsus, Monochamus obtusus. Illustration by Lauren Helton.
For the past 15 years IBP has worked in partnership with the US Forest Service in California's Sierra Nevada to not only monitor Black-backed Woodpecker populations, but also study their ecology, so that we can better understand the species' needs and how to manage burned forests to benefit it and other post-fire specialists. Two recent publications illustrate how IBP's monitoring and research is helping land managers.
In a
recent paper in the journal PLoS ONE
, IBP research associate and UCLA professor Dr. Morgan Tingley, along with colleagues from IBP and the US Forest Service, developed a multi-trophic model to examine how populations of Black-backed Woodpecker and woodboring beetles change in the years following a fire. The model was a new type of a statistical tool called a multi-species occupancy model. This new model is a "multi-trophic" model because it incorporates the tropic, or food web, relationship between Back-backed Woodpeckers and the beetle larvae that they eat.
One question they hoped to answer using the model was whether surveying for woodboring beetle larvae is an effective, and possibly more efficient, way to predict Black-backed Woodpecker presence than surveying for the birds themselves. Surveying for the highly mobile woodpeckers is done using both playback surveys and passive point counts by a trained human observer. In contrast, beetles are assessed by removing a patch of bark from a burned snag and quantifying beetle larva signs such as holes, tunnels, and frass (poop.) The researchers found that evidence of larvae was a good predictor of woodpecker presence only in the first few years following a fire. Because beetle larvae sign persists long after the larvae are gone, it becomes a more unreliable predictor as time goes on, and by about 7 years after a fire beetle sign is actually negatively correlated with woodpecker presence. This is likely because dead trees that hosted beetle larvae for multiple years eventually become depleted of suitable resources for the beetles, and therefore less hospitable to new beetles as well as to foraging woodpeckers.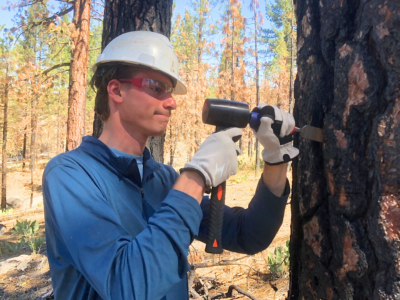 IBP technician Sam Simon removes a patch of bark to quantify evidence of beetle activity. Photo by Bob Wilkerson.
One unexpected result of the new model was the influence of tree species on beetle-woodpecker dynamics. Beetles rapidly colonized areas dominated by pine trees after a fire, but appeared to persist longer in areas with fir trees as years passed. This is presumably because the vascular tissue of pine trees becomes suitable for beetle larvae to eat quickly after the trees die and then in a couple of years the bark sloughs off and the vascular tissue becomes too dry to be edible. However, in fir trees that vascular tissue can take longer to become an edible resource for beetle larvae, but it also persists longer. Burned fir trees may also provide suitable nest sites for woodpeckers longer than burned pines because over time the trunks of dead firs tend to snap about halfway up the tree, leaving a standing (thought shorter) snag, whereas pine snags tend to topple from the base rather than breaking, leaving behind no standing snag in which to excavate a nest. So, while Black-backed Woodpeckers might favor areas dominated by pines following a fire, they may rely on prey and persist in areas with more fir trees as time passes.
In a
second paper published in Ecological Applications
, Andrew Stillman, a former student in Morgan Tingley's lab, who is now a post-doc at Cornell University, along with colleagues from IBP and US Forest Service, evaluated three different statistical models that predicted Black-backed Woodpecker use of burned forest. Over the last decade or so, research by the Tingley lab, IBP and USFS has shown that timing of fires and time since fire can affect use of burned areas by woodpeckers. In addition, the group's more recent findings demonstrate that
pyrodiversity, or the spatial and temporal variation in fire characteristics
, also affects habitat use. Adaptive management, or updating or adjusting practices when new information becomes available, is a key paradigm in conservation. But how could this new knowledge about Black-backed woodpecker ecology be applied to improve post-fire management?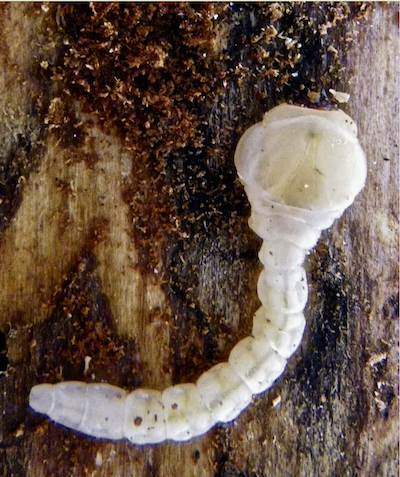 A wood boring beetle larva. Photo by Danny Cluck.
The aim of the model evaluation was to determine whether these recent ecological insights could scale up to inform region-wide predictions about woodpecker habitat use, and if so, whether they could they be used to improve the predictive models that land managers use to make management decisions in the critical period soon after a fire. The first model evaluated represented the model that land managers most often use and includes only static, or unchanging, variables such burn severity, fire size, tree size, etc. The second model included those static variables as well as temporal ones such as time since fire and what time of year the fire started. The third model incorporated the above-mentioned variables as well as variables related to pyrodiversity such as distance to edge of burn and variability of burn severity.
The researchers found that the third model that incorporated both pyrodiversity and temporal variables did the best job of predicting Black-backed Woodpecker habitat use. To make the model more accessible to land managers, they developed a decision support tool housed on IBP's website, that allows users to predict woodpecker abundance after fire simply by inputting a GIS shape file delineating the boundary of the fire and remote sensing data on the fire's severity. This tool will allow land managers to make post-fire forest management decisions that account for the potential effects on Black-backed Woodpeckers.
As scientists we're naturally curious and excited to learn new things, but as conservationists we're not satisfied with knowledge for knowledge's sake. At IBP, the goal of our science is to make conservation more effective. Our work on Black-backed Woodpeckers with our partners in the Tingley lab and the US Forest Service is a good example of that. It's very exciting to see over a decade of research directly improve a conservation tool that is now in the hands of land managers.